Updates
WEEK OF SEPTEMBER 17-23
FROM RABBI ADRIAN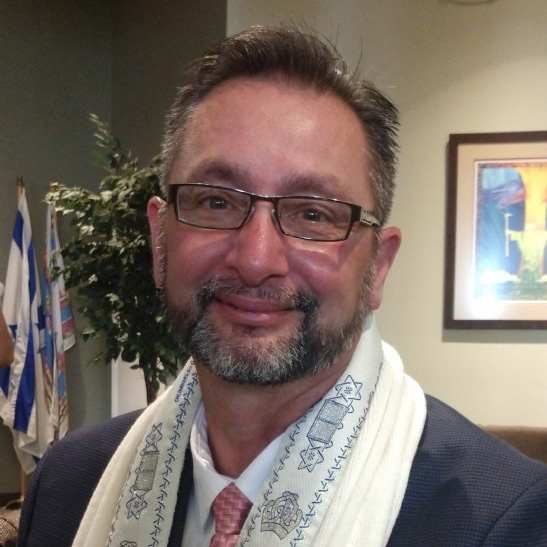 For this coming week, we will be observing Yamim Nora'im, the Ten Days of Awe leading up to Yom Kippur. It is a time for sober reflection on our souls and life and to make them right before Adonai. It is a time to make sure that our hearts are in a place of cleanliness and preparation for the presence of God, through the Holy Spirit.
After the destruction of the Temple in A.D. 70, the remaining Jewish leaders who had not accepted Yeshua as their Savior had to come up with an alternative to the sacrificial system. In A.D. 90 they formed halakhic decisions as well as voting against the believers in Yeshua as the Messiah from entering their synagogues. This Council of Yavneh was formed by escaping one of their leaders, Yohanan ben Zakkai, to Yavneh, Israel, under Roman permission. During this time, they had to make more decisions on a whole bunch of things, including a substitutional approach to sacrifices offered for forgiveness. Thus, prayer and fasting became the norm for forgiveness, bypassing the atonement required for obedience to the Torah.
During these High Holy Days, Jews across the earth will make it a point to find forgiveness and do everything they can to make reconciliation with God, neighbors, and themselves. Although one would hope this is enough, it is not. The Bible demands innocent blood for the remission of sins (Lev. 16:6-10; 23: 26-32). Therefore, as messianics we have the One who takes away the sins of the world, because of His innocence and holiness, not just prayer and fasting.
The Bible states, "And nearly everything is purified in blood according to the Torah, and apart from the shedding of blood there is no forgiveness [of sin]" (Hebrews 9:22; Exodus 29:12; Lev. 8:12). This blood sacrifice had to be without defect, and pure. No human is capable of this, regardless of his holiness or righteousness. I may lay down my life for a friend, but my death will not remove the sins of the world. The rabbis incorporated martyrology in their prayer books, which during Yom Kippur this section is recited to ask God to have mercy on Israel because of the ultimate sacrifice in God's honor made by these sages (martyred by Hadrian). In some modern congregations they revised the prayer books to include the people of the holocaust.
Although, forgiveness is done through repentance, prayer, and even fasting, it must be done in the way God intended. It is only through Yeshua that we are found forgiven before the Father (Matthew 26:28).
L'Shanah Tovah!
SHABBAT SHUVAH: SAT. 23, 10:30AM
The Shabbat that falls between Rosh Hashanah and Yom Kippur is called Shabbat Shuvah, or the Sabbath of return. If that word reminds you of the word teshuvah, that's not a coincidence—they share a common root. Teshuvah, or repentance, is a core concept of the High Holidays. The word literally means to "return." Services on Shabbat Shuvah are typically solemn and focused. And the Haftarah portion deals with themes of repentance and forgiveness.
Ashkenazi Jews read Hosea 14:2-10 and Joel 2:15-27, while Sephardic Jews read Hosea 14:2-10 and Micah 7:18-20. The selection from Hosea focuses on a universal call for repentance and an assurance that those who return to God will benefit from divine healing and restoration. The selection from Joel imagines a blow of the shofar that will unite the people in fasting and supplication. Hosea focuses on divine forgiveness and how great it is in comparison to the forgiveness of man.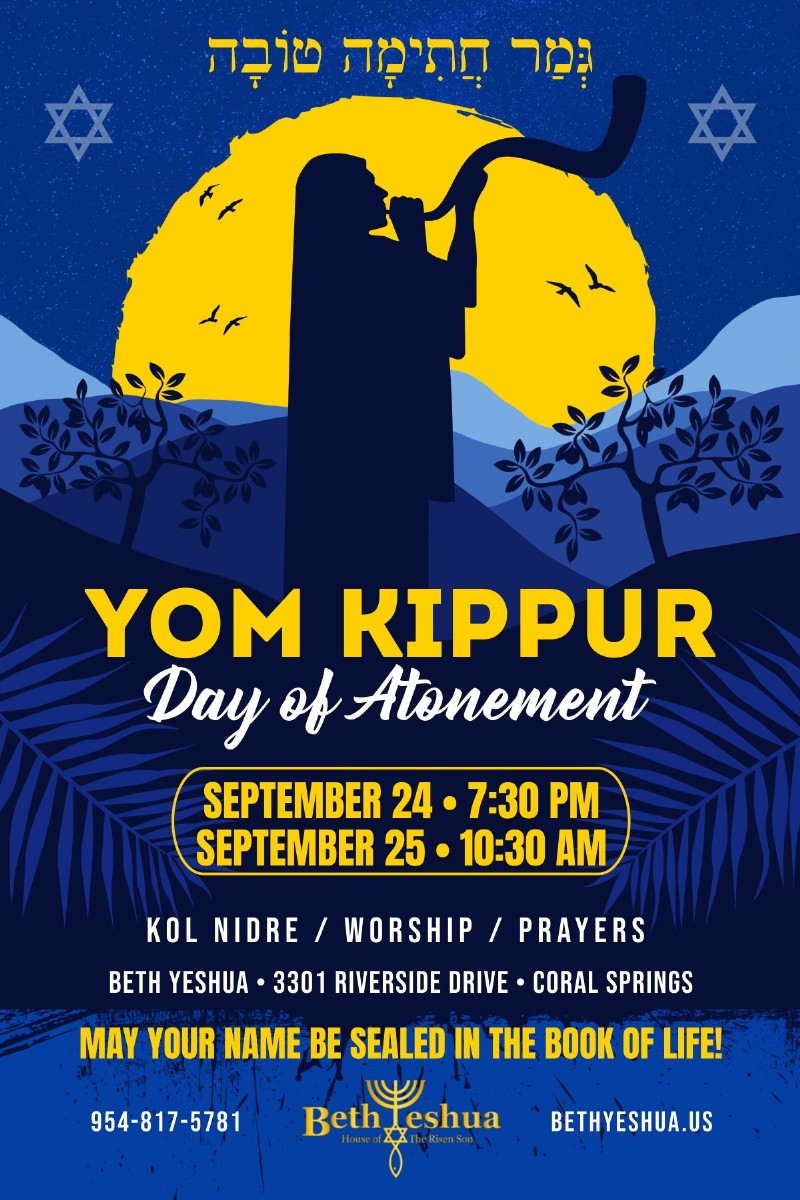 BETH YESHUA YOUTH MINISTRY FUNDRAISER
Beautiful 16oz mugs
With Beth Yeshua Logo & Web Address
$15 each. 2 for $25; 3 for $30
Available After Shabbat Service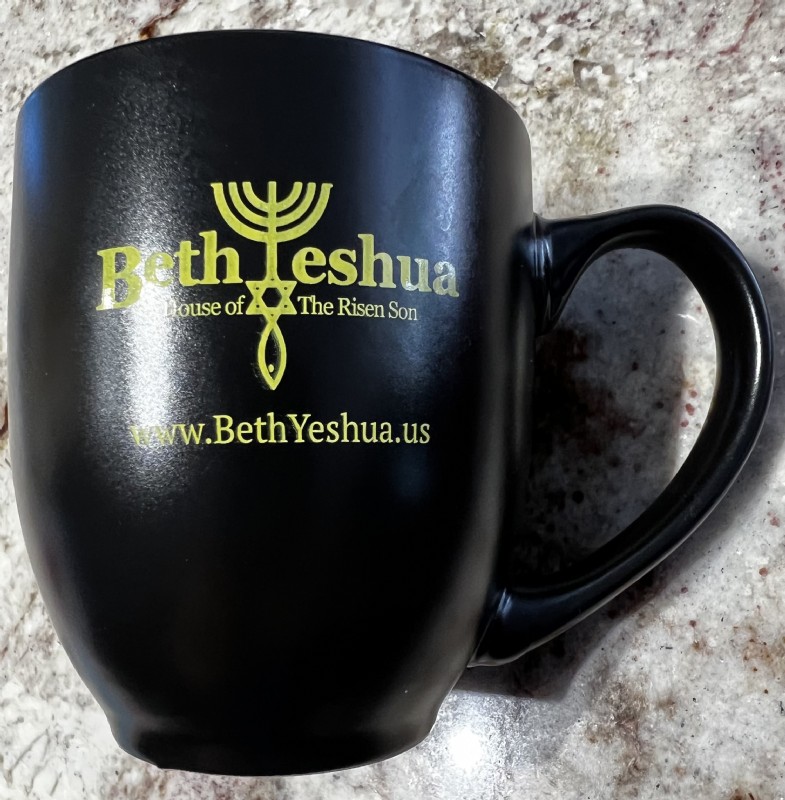 ACTIVITIES THIS WEEK:
COFFEE & DONUTS
Every Shabbat: 10:00-10:20am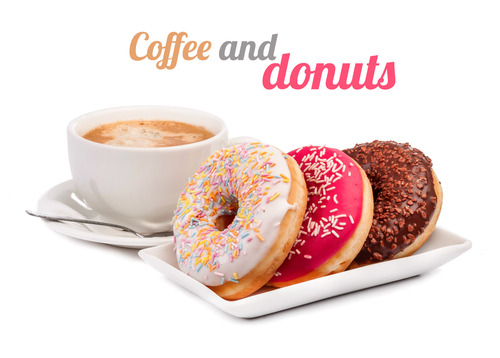 A great way to start Shabbat morning with coffee, donuts, & fellowship. Please join us! (Please do not take coffee or donuts into the sanctuary, thank you!)
MONDAYS AT 8:00PM:
DISCIPLESHIP TRAINING WITH TZOFIYA
Join Tzofiya, founder of "As You Go Ministries," in this highly interactive, Zoom online format Monday evenings between 8:00 PM and 9:30 PM for teaching, training, equipping, Q&A, and more. . . . If you want to operate in the prophetic this teaching is for you!
Weekly Zoom Meeting ID: 931 5729 1366 
(No Meetings for the Next Two Weeks)
WEDNESDAYS AT 8:00PM:
BIBLE STUDY  WITH RABBI ADRIAN. (NO BIBLE STUDY SEPTEMBER 20th)
Join Rabbi Adrian as we go deeper in the Scriptures
Weekly Zoom Meeting ID:  883 2776 9555
THURSDAYS AT 8:00 PM:
PRAYER WARRIORS 
Join us as we enjoy a time of prayer for our nation, our community, and each other. God wants us to pray to Him. When Yeshua taught the disciples to pray, He didn't say if you pray, He said when you pray. When our prayers are not mundane, amazing things can happen. 
FRIDAYS AT 6:30-7:30pm:
EREV SHABBAT with Jill Melton
Welcome in the Shabbat with this interactive zoom gathering.
Zoom Meeting ID: 714 460 0463
SATURDAYS AT 8:45AM:
TOTALLY TASTY TORAH  
Join Rabbi Peter Gaines every Saturday Morning at 8:45AM for Totally Tasty Torah. An in-depth look at the week's Torah portion. Remember, Torah is a tree of life for those who take hold of it. Come join us in person, or by Zoom.
Weekly Zoom Meeting ID: 821 472 10441
SHABBAT SERVICE 10:30AM
SUNDAYS AT  9:00AM:
IT'S ALL ONE BOOK--RABBI AND FRIENDS 
Join Rabbi Peter & Rebettzin Susan every Sunday morning at 9:00AM for an in-depth look at Scripture.
Weekly Zoom Meeting ID: 825 030 60546
OTHER EVENTS:
BAGELS & BLESSINGS:
October 1, 2023 11:00AM at Rebettzin Jackie's (981 SW 70 Ave, Plantation, FL 33317)
Our sisterhood meeting is usually the first Sunday of each month.  Come enjoy a time of fellowship, sharing, and prayer. You won't be disappointed.
MENS MEETING: No meeting in September
The Original Pancake House: 10599 W. Atlantic Blvd., Coral Springs, FL 33071
DANCE CLASS:
Join Linda Bernal and Tzofiya Rogers as they teach Davidic and Prophetic, inspirational dance. Open to male and females of all ages: 1:30PM after Shabbat Service.
JOIN US FOR LIVE, SPANISH/CREOLE TRANSLATION:
Únase a nosotros para vivir, traducción al español
Download LiveVoice App and use CODE: 073068
Descargar LiveVoice App y usar código: 073068
BETH YESHUA SERVES THE FOLLOWING COMMUNITIES:
Boca Raton, Coconut Creek, Coral Springs, Deerfield Beach, Ft Lauderdale, Lauderhill, Lauderdale Lakes, Margate, Parkland, Plantation, Pompano Beach, Sunrise, and Tamarac.